Blaine's Raya Dating App Review (2022)
Apr 10, 2022
Hi, I'm Blaine, and I'm a dating coach for men.
To help you meet someone you're excited about, I'm sharing how popular dating apps work and reviewing them across the 5 Ws: who, what, when, where, and why.
Today, I'm reviewing Raya.
(Check out my Hinge review here if you're curious about alternative dating apps.)
---
What is Raya?
Raya is the Ferrari of dating apps 🏎️
📰 It's buzzy. Raya's had full-story features in the New York Times, US Weekly, Vice, and Business insider.
🎟️ It's exclusive, and there's a waitlist. You can't just sign up. A current Raya member must invite you, and even then, your application is subject to approval by a committee and an algorithm.
✨ Celebrities dig it. Supposedly celebrieties like Cara Delevigne, Drew Barrymore, Amy Schumer, Kelly Osbourne, Demi Lovato, and Chelsea Handler have all been spotted on Raya.
---
How Does Raya Work?
Like most other dating apps, the Raya dating experience centers around:
Creating a photo-centric profile to spotlight who you are to potential matches 📸
Reviewing a single-file queue of potential matches, who you'll either approve or reject 📲
Exchanging messages with matches via in-app, text-based chat 💬
The most important difference between Raya and other dating apps here is profile construction.
On Raya, you construct a profile by creating a slideshow of photos set to music. You can see an example of my profile from when I was single here if you're curious:
(Just sharing so you know how Raya slideshow works. I'm not single anymore, so don't ask me out 😏)
Raya requires an Instagram handle, and a written bio is optional. This tells you a lot about what kind of people are using the app!
Anyway along with the profile slideshow, Raya has some other special functionality:
📍 A map that shows you to the locations of other Raya users near you, and enables you to browse their profiles if you've both opted in to location-based browsing (this feature is called "social mode")
🎵 A jukebox feature, that lets you share and discover music
💬 A pay-to-play DM feature, that lets you message potential matches without a mutual match
The other key callout about Raya is, unlike most other dating apps, there's no free tier. All users pay $9.99 a month to maintain an active membership as of 2022.
---
Who's Raya For?
Raya isn't for everyone. A current Raya user must invite you to join the community, and even then, there's no guarantee your "membership" will be approved.
If you're wondering who gets approved, according to Raya's website, their "community" values creativity. Raya's application criteria are:
💼 Your work. Is it interesting and creative?
🤝 Familiarity. This is Raya's way of saying "know anyone inside?"
✨ Something extra. What special qualities do you bring to the table?
Raya users tend to be Instagram influencers, actual and aspiring.
You know who I'm talking about.
People who don't think twice about spending $500 on sunglasses, and care a lot about where you vacationed last summer, primarily between the ages of 25 and 35...
Millennials who like to see, and be seen 😎
This isn't to dump on Raya. I've connected with genuinely cool people on there!
But don't believe for a second that Raya's about true creativity, and not social media clout...
The most prominent call-to-action on your Raya profile after the swipe mechanism is the link to your Instagram handle!
I read a Raya review on Vida Select that said there's a 5,000 minimum Instagram follower requirement. This isn't true.
My Raya account is from when I was single, and my Instagram following is way smaller than 5,000.
But Vida Select's sentiment is directionally correct — the people on Raya tend to be actual or aspiring Instagram influencers ✨
Anyway...
This is what your Raya profile looks to potential matches: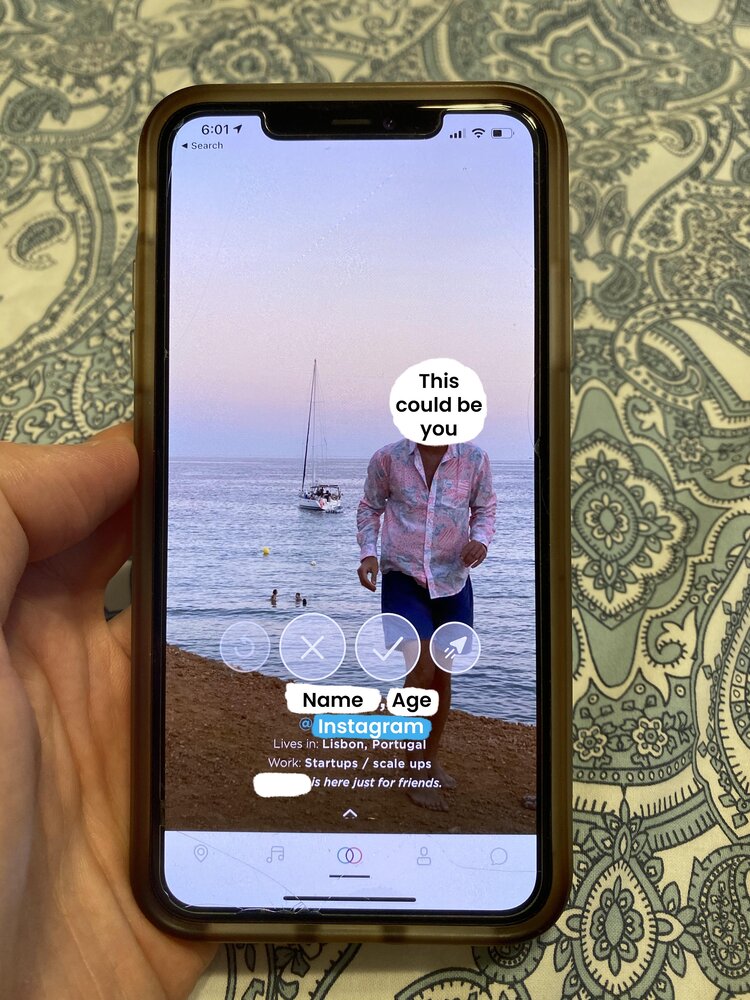 Wondering if Raya users are looking for relationships or hookups?
I use the term "intent" to describe where on the relationship-seriousness spectrum a dating app's audience tends cluster.
"Low intent" means the app's audience is more hookup-oriented (e.g. Tinder, though the most extreme example I can think of would be Grindr 🔥)
"High intent" means the app's audience is more relationship-oriented (e.g. Match.com, or an actual matchmaking service 💍)
Raya's audience is lower intent (i.e. more hook-up oriented).
That's not to say you can't find your future wife on Raya!
But Raya is more superficial than apps like OKCupid, Hinge, or even Tinder.
The fact that a written bio is optional on Raya tells you everything you need to know.
---
When Can You Use Raya?
Like most dating apps, Raya usage is:
✔️ On-demand. You can look for matches whenever you want, and there's no special timing element.
🧢 Usage-capped. Once you've swiped on a certain number of profiles, Raya temporarily stops showing you new profiles for a while unless you choose to pay a small fee ($4.99 last I checked) to override the limit.
---
Where Can You Use Raya?
Raya has users all over the world at this point!
📍 I originally wrote this review from Lisbon, Portugal, and there were dozens of other Raya users on the map near me.
As you'd expect, Raya's member base is densest in dense cities.
---
Why Should You Use Raya?
Raya's a terrific dating app if you're an Instagram influencer, actual or aspiring, or you're looking to date one.
At risk of sounding of sounding presumptive, if you're the type of person who:
Carefully considers the merits of different dating apps 🧐
Reads 1,000-word-long reviews of online dating platforms 🤗
… Raya may not the best dating app for you.
Absolutely try Raya out if you can score an invite from a friend.
But if you're trying to find your long-term partner, solely searching on Raya could mean a long wait because of its casual, appearance-forward design (and its literal waitlist).
Don't let that hold you back though!
I like Raya's creative approach, and it absolutely takes the award for sexiest dating app audience.
PS. One last word for the wise…
You'll find awesome women on literally every mainstream dating app: Tinder, Bumble, Hinge, Raya, OKCupid, Match.com, Zoosk, Coffee Meets Bagel, BlackPeopleMeet.com, JDate, etc.
☝️ Your profile across all these dating apps is essentially the same.
What do I mean?
Whether you're using Hinge, Plenty Of Fish, or MeetMe, you'll need some combination of the following to showcase who you are, and what you're about:
📸 3-6 photos
📝 3-6 sentences of written text
(Though astute readers will recall that Raya is slightly different, because it requires a song instead of bio text!)
Where I'm going with this is...
What dating apps you use (e.g. POF vs Bumble vs Tinder) matters about 1/100th as much as the quality of your profile.
Why?
⚒️ You'll use the same photos and written text to construct your profile regardless of what app you use
👯‍♀️ Many women use multiple dating apps (i.e. you're likely to see the same women on Bumble and Hinge)
🤷‍♀️ There are awesome women on all dating apps (i.e. just because some women only use Match.com and others only use Raya, that doesn't preclude you from meeting someone who'd be a terrific partner on Hinge)
What does this mean for you?
Don't sweat trying to finagle a Raya invite.
You're better off improving your photos and your copywriting skills, so you stand out on whatever apps you're using today.
💸 This same principle applies to paid dating app features like DMs or extra swipes on Raya, Super Likes on Tinder, Roses on Hinge, etc...
These add-ons might get you +1 or +2 matches per month. If +1 or +2 matches per month sounds great, and you won't miss the $20 (or whatever the add-on costs), don't let me stop you.
But the impact is negligible compared with the +100 or +200 matches you'd get per month by simply improving your profile 🙃
Make sense?
And if you're ready to improve your profile, check out my free guides below!
---

PS. Ready to uplevel your dating life fast?
I'd love to share my best free guides, so you can start making progress immediately:
📲 What I Swipe Right On (how to improve your matches on apps like Hinge fast)
💬 Master The Message (how to create more chemistry via text)
🏀 How To Bounce Back (dating 101 for newly single guys)
😅 You're Nice, But... (dating 101 for "nice" guys)
Just pop in your name and email below, and I'll send over your free guides immediately!
Xo Blaine
Uplevel your dating life
Get my best FREE guides, and get results in <1 hour 🚀
I'll share your guides and a couple tips a week. 100% privacy, no spam or b.s.